NO ONE WORE A SUIT to Daniel St. Pierre's final send-off, and that seemed just about right.
A few women put on dresses and some men wore ties for Danny, but it was mostly jeans and work boots walking through Leroy P. Wooster Funeral Home, calloused hands and voices etched with Marlboros, men who rarely revealed sadness as they did on this Saturday morning in September.
The dead man's brother, James Manning, drove up to South Jersey from North Carolina with his family for the memorial service, wearing a tie, a freshly pressed shirt and a camouflage ballcap.
St. Pierre's favorite songs played on a loop, and floral bouquets in the shape of footballs and hockey pucks stood between photos of him holding up fish he hooked or cliff-diving into the ocean, smiling always at Eagles games, and in his mother's lap recently like he was a 42-year-old baby.
"Take your time . . . Don't live too fast. Troubles will come and they will pass," Lynyrd Skynyrd's Ronnie Van Zant sang.
St. Pierre had run a loud and raucous life, like the rockabilly music he loved, always fast enough to stay ahead of his troubles – until the morning of Aug. 1.
St. Pierre had lived all over, from North Carolina to Bucks County and his beloved Santa Cruz, Calif., where he was known as "Philly Dan," and back again to South Jersey.
Hard living had caught up to him, his family said, and he was suicidal and struggling with substance abuse.
When his hard-nosed mother, Linda Auwarter, called the police that morning in Winslow Township, Camden County, she was hoping they'd show up to help him.
"I don't know. I just don't know what happened," Auwarter said in an interview with the Daily News. "I miss him. I know that. "
When officers drove down the gravel driveway of Auwarter's house on New Freedom Road, across from the Golden Nugget Tavern, they found St. Pierre holed up in a trailer on the property. Auwarter sat on her front porch, she said, watching the scene unfold as several officers came in and out of the trailer.
Then there were gunshots.
The Camden County Prosecutor's Office said the investigation into St. Pierre's death is ongoing and declined to comment further. Auwarter said she knew her son had taken a gun from her room but no officers were injured and it's not clear what exactly happened inside the trailer. St. Pierre was pronounced dead at Cooper University Hospital at 9:30 a.m.
No one has said a word to Auwarter, she said, and she's recently hired a lawyer.
Manning said his brother needed "psychiatric care, not a bullet to the head," and he wonders why police couldn't have taken another approach.
"He was having mental problems," Manning said. "They could have found that out with a few clicks of a button. "
According to the American Foundation for Suicide Prevention, there's no national training program for law enforcement to address helping suicidal people in managing a suicide-related crisis, although individual departments often have their own protocols.
Safety is clearly the first concern for responders, Jill M. Harkavy-Friedman, the AFSP's vice president of research, wrote in an email, but there are ways to keep a suicidal person alive amid a crisis.
"Time, respect and compassion can diffuse the situation," Harkavy-Friedman said.
Manning said he and his brother grew up mostly in Fairless Hills, Bucks County, both of them graduating from Pennsbury High School. He said St. Pierre was a "jokester," always in trouble for something, although rarely anything serious.
St. Pierre moved out to Santa Cruz at 17, his brother said, and became a well-known bartender in local dives, most notably the Asti, a few blocks from the San Lorenzo River on Pacific Avenue.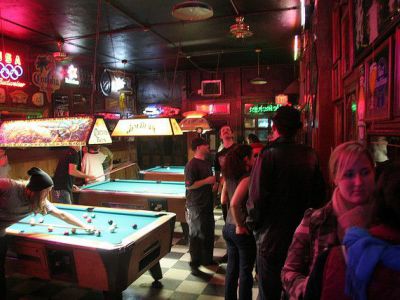 "Dan was the standard City of Brotherly Love, rough-and-tumble drinker," said Gary Marsh, a Santa Cruz native and drummer in one of St. Pierre's favorite bands, the Chop Tops. "He was a good guy, not a psychotic. "
On Saturday morning, about 12:30 a.m., Marsh was standing behind a drum set with the Chop Tops at Kung Fu Necktie beneath the El in Fishtown and he talked to the crowd before the reverb-soaked chords of their song "Evil Six" began.
"This song's for one of our best friends from way back, Philly Dan. He was shot dead," Marsh said. "This song's about justice. "
St. Pierre had left Santa Cruz several years ago and come back to South Jersey to straighten his life out and be closer to his family, his brother said. He was working as driver for his mother's steel company in Frankford, but Auwarter said she had to fire him because he failed a drug test.
"He was a tough little guy, a hell-raiser. He had a heart as big as . . . I don't know what," she said.
At St. Pierre's memorial, nearly everyone was choking on laughter, outside smoking cigarettes or inside beside the pictures.
The Eagles season would be painful, win or lose, Manning told the small crowd. The Flyers had lost an unofficial coach who yelled at the television, the group said.
When a pastor urged mourners to say a few words about St. Pierre, the same phrase kept erupting from the seats.
"Big heart. Big, big heart," one woman said.
"The biggest," another woman said.
Someday soon, many of those people at the memorial will head out off the coast of Cape May, where Auwarter grew up, about 13 miles out to "Garrison's Gut," a fishing hole named after her father.
They'll drop hooks above an artificial reef there that includes a chunk of the Old Ben Franklin Bridge. Someone will crack open a beer, maybe two, and their cigarettes will burn fast in the wind while they swap stories to forget the pain Danny felt toward the end.
"It's good fishing out there," Auwarter said. "We're gonna catch fish that day. "
Everyone will be wearing slickers or thick, canvas jackets, and fish scales will stick to the soles of their boots – and that seems about right.
Then they'll dump St. Pierre's ashes overboard, everyone rising and falling in the dark, rolling swells, waiting for the fish to bite down below.
On Twitter: @JasonNark